1. Elrond's Not-So-Hospitable Day
Author: Aislynn Crowdaughter
Genre: Humor. Cartoon.
Rated: none
Warnings: Complete silliness.

Summary: "I was there, Gandalf! I was there on the day the famous hospitality of Lord Elrond of Rivendell failed! I was there three full weeks ago!"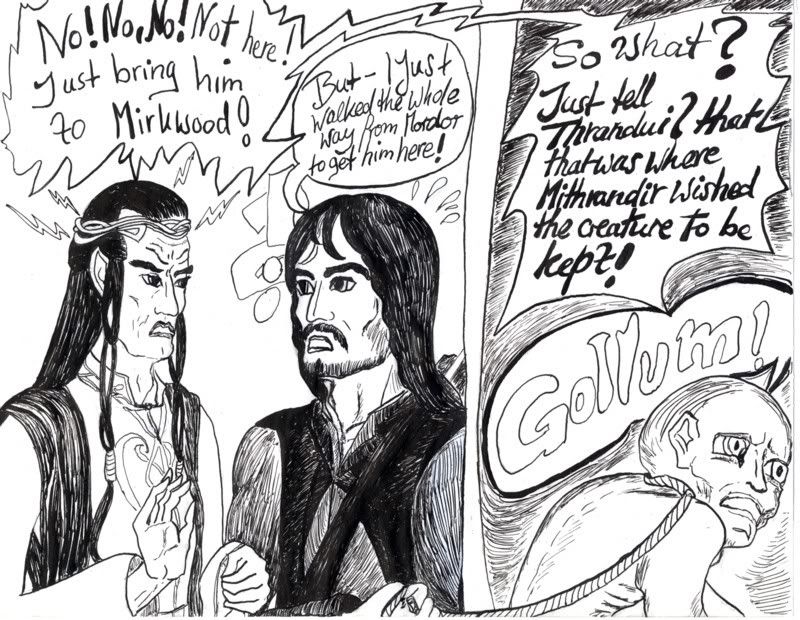 ---
Author's note: This was originally inspired by the HASA "Death To Fanon!" Challenge, which suggested to write something including a canon character acting 'OOC' aka differently than we know them from fanon; for example Elrond being not so hospitable, for once. However, since a) the challenge is long closed and b) the requirements were "No humor fic", it does not exactly qualify. Still, I hope you enjoy! -- Aislynn

---
This is a work of fan fiction, written because the author has an abiding love for the works of J R R Tolkien. The characters, settings, places, and languages used in this work are the property of the Tolkien Estate, Tolkien Enterprises, and possibly New Line Cinema, except for certain original characters who belong to the author of the said work. The author will not receive any money or other remuneration for presenting the work on this archive site. The work is the intellectual property of the author, is available solely for the enjoyment of Henneth Annûn Story Archive readers, and may not be copied or redistributed by any means without the explicit written consent of the author.